Letters from Richplanet.net to Prime Minister Gordon Brown & George W. Bush

On 11th August 2008 I wrote to Prime Minister Gordon Brown and Geoge W. Bush.
In the letters I stated some of what Dr. Edgar Mitchell (the sixth man on the moon) recently stated about the alien and UFO cover up, he said,
"I happen to be privileged to be in on the fact that we have been visited on this planet. The UFO phenomenon is real although it's been covered up by governments for quite a long time."
"The Roswell crash was real and a number of other contacts have been real and on going"
"They are little people that look strange to us".
I then asked Gordon Brown and George Bush if they knew anything about what Dr. Mitchell was saying, whether they think the people of the world have a right to know about it, and whether they were investigating the matter.
I received a letter from Gordon Browns office about a week later stating they had sent the letter to the M.O.D. and they would reply. I received a reply from the M.O.D. dated 28th August. The full letter is displayed below.
I have not received any correspondance as yet from George W. Bush.
Richard D. Hall BEng (Hons) CEng MIEE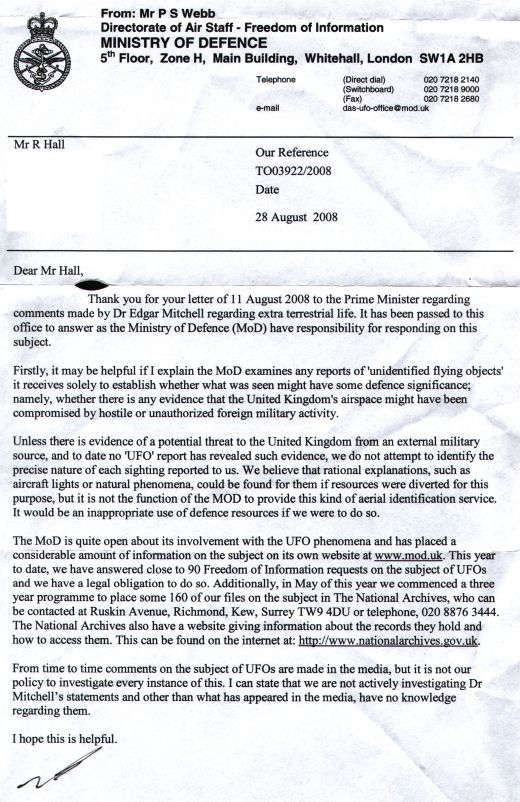 The last paragraph is quite revealing. Either: They already know and don't want to tell us, or they are mind bogglingly naïve and do not want to find out.
< Back