WARNING: SOME MAY FIND IMAGES ON THIS PAGE DISTURBING - PLEASE BROWSE AWAY IF EASILY OFFENDED
Mutilation occurred in early hours of Sunday 24th October 2010.
Several interesting details about the case have been documented on video which we will be revealing in a television documentary to be screened in the UK on SKY Channel 201 (Showcase Channel) and on Freesat 403 on Friday 3rd December at 9:00pm & repeated on Tuesday 7th December at 10:30pm. You can also watch the documentary from this website below.
PART 1

PART 2

PART 3

>> MAY 2010 LECTURE ABOUT ANIMAL MUTILATION IN THE UK
>> UK FILM MADE LAST YEAR ABOUT THESE TYPES OF ATTACK
>>READ UK PARLIAMENTARY QUESTIONS & LETTERS ABOUT THIS PHENOMENON
>>WATCH INTERVIEW WITH RESEARCHER - DAVID CAYTON
On Sunday 25th October, Richplanet.net received an email & telephone message from a land owner living in Sussex. In a brief email they stated that they had discovered a mutilated horse in one of their fields. They were already aware of the animal mutilation phenomenon as they had watched an interview with David Cayton on the internet and therefore alerted us to the case. Contrary to what I have read on certain internet forums, the land owners did not telephone us before they phoned the police or the vet. When we were cotacted, a vet and police officers had already visited the scene and conducted investigations.
I called them at about 1:00pm and took down some details. The horse was a 2 year old gelding and had been discovered in the field that morning at about 9:00am. After several phone calls we decided to drive down to Sussex to get film footage and picked up animal mutilation investigator, David Cayton on the way down. We stayed overnight then spent Monday filming and documenting this disturbing case.
The horse was known to be in perfect health the previous day. There was no blood on the grass apart from a very small amount near where the rectum had been cored, and very little blood on the animal. Injuries present were a classic jaw strip on the left side, which was very rectangular in shape. A huge gaping cut to the left side of the neck encompassing part of the head and extending to the left ear which had been removed and was not left behind. Organs appeared to have been removed from the neck area. The tongue was in tact and both eyes were still present. The right hand side of the head was undamaged. The penis had some of the flesh removed; an oval shaped scoop of flesh had been taken, which was about 2 inches long by 1 inch wide. All cuts had precise straight edges as if preformed by surgical tools. The rectum had been cored (sphincter removed), and the resulting orifice was about 3 inches in diameter and the coring taken to a depth of 5 inches. Although there may have been further coring which may have been obscured by collapsed tissue.
We do not know if any internal organs had been removed. This will be revealed by post mortem. Early on Monday evening (the 26th October) the animal was transported to a veterinary laboratory to have a post mortem carried out. The animal arrived at the laboratory at approximately 6pm and the post mortem was to be carried out on the 27th. We are awaiting a copy of the post mortem report.
Any queries please send them either to me at richard@richplanet.net or the APFU (Animal Pathology Field Unit) www.apfu.org.
Horse Removed From Field Onto Trailer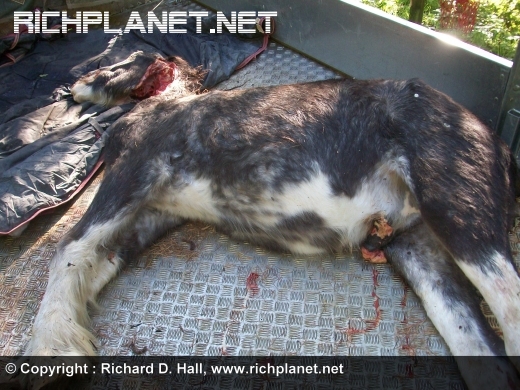 Jaw Strip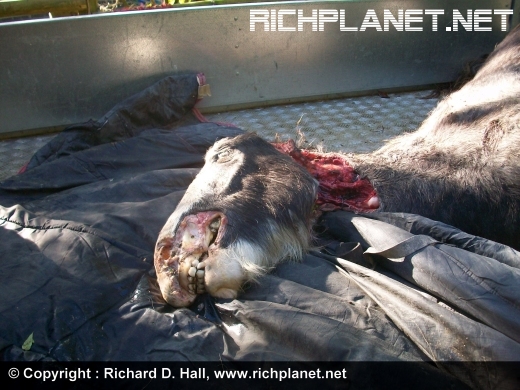 Throat Organs & Left Ear Removed - Precise Cuts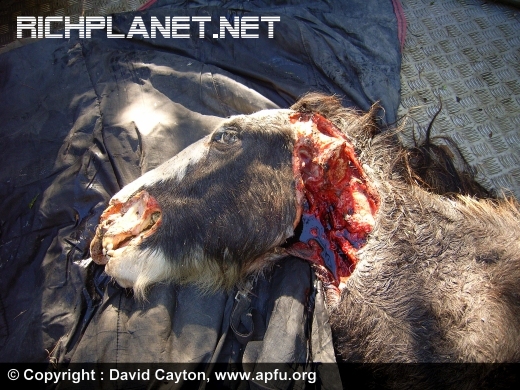 Rectal Coring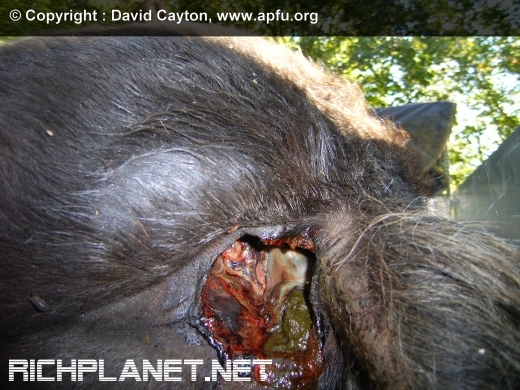 Skin Taken From Penis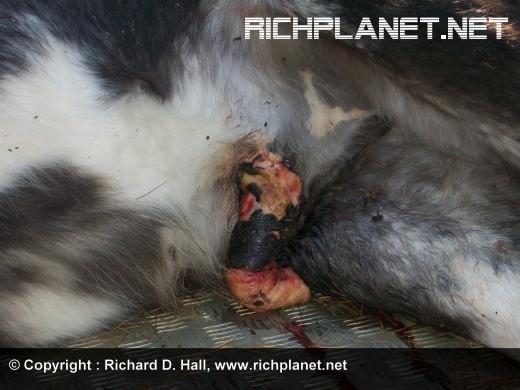 Chestnuts removed From All Legs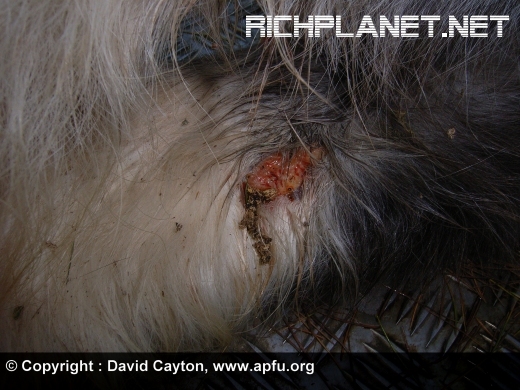 More images, information and video will be released in the up coming documentary to be screened on Friday 3rd December 2010, 9:00pm, in the UK on Sky 201, Showcase TV (Freesat 403), and on this website from 4th December 2010.
Silent Killers - A Film produced by Richplanet.net about UK Animal Mutilation produced in 2009
< Back