WHAT THEY DON'T WANT YOU TO KNOW
THANKS TO EVERYONE WHO ATTENDED AND FOR THE COMMENTS. VIEW VIDEOS OF THE TALKS AND COMMENTS BELOW.
Venue
Tyneside Irish Centre, Newcastle Upon Tyne,
Tues 1st December 2009
For other venues & dates >>Click Here
Richard D. Hall hosts an evening of truth seeking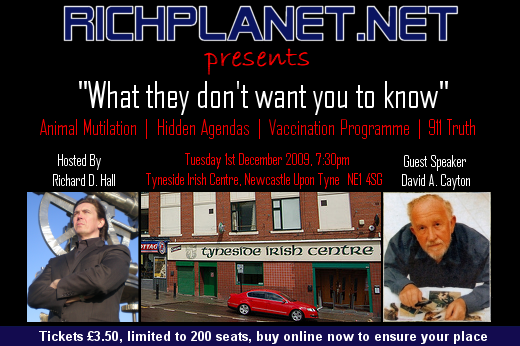 Details of speakers
David Cayton
David Cayton deals in facts. He worked for British Aerospace for 27 years after a 10 year career in the Royal Air Force. His position when he retired was head of the non destructive testing department. You can't get much more objective than that, and that is what David Cayton is. He will be talking about his 12 years of research involving animal mutilation. Davids work was featured heavily in the Richplanet documentary 'Silent Killers'. In his talk David will give more information which was not covered in the film. You can watch the film online by clicking HERE>. The North East member of parliament, Dave Anderson has written to the secretary of state for Agriculture about concerns that I raised with him. It seems that the government does not want the public to know the real truth about this very disturbing phenomenon. We first wrote to DEFRA on 8th May and MP Dave Anderson wrote to Hilary Benn on 25th August and still no reply. Find out more when David Cayton gives his talk on 1st December at the Tyneside Irish Centre.
Healthcare Professional
We have made enquiries to the NHS to get a healthcare professional who can answer questions about the proposed swine flu vaccine. We have asked for somebody who can answer questions concerning the microbiology and how the vaccine works, not just about the actual programme. We spoke to various people and we were eventually told that Caroline Latta, NHS Communications Manager would contact us about arranging a suitable professnioal.

Richard D. Hall
Richard will talk about 911 and ask questions about the real purpose and perpetrators of this event. He will also explore recent claims about the crimes of pharmaceutical giants which seem to be being pushed to one side by mainstream media. How can we make informed choices about vaccination if the population are not being given the full information.

Watch Richard D. Halls talk - ''9/11'' and Vaccination Contamination
>> OPEN THIS FILM in seperate larger window
Watch David Caytons talk - Animal Mutilation
>> OPEN THIS FILM in seperate larger window
COMMENTS FROM ATTENDEES

David Cayton gave a good, informative talk about animal mutilations, stuff we hadnt seen before. Was a case of, I think, 1,518 animals ''missing'' from a field, with very little access, & lots of interesting things. Fascinating !! Also lots of proof of 9/11 being orchestrated, some I knew, some I didnt. Then, lots of info on Swine Flu, plus interview with Jane Burgemeister.
The time from 7.30pm until 11.30pm(ish) went over fast, & hardly anyone wanted to break for questions until the end. There were some very good questions asked on all subjects, & answers given.
A couple of people from the forum came & said hello, & there were some others there who knew what they were talking about. Info passed backwards & forwards & some good lessons learned.
Cant wait for another one, Hint, hint. A nice venue, bar in same room, all mod cons. You missed a successful night.
Congratulations Richard.
--------------
I echo that, it flew over. It was a pleasure to meet you and your friend and also Pat and others. Look forward very much to the next one. It is a strange coincidence that nobody posted a few days after The Event but personally i was without internet for a few days but otherwise i would've posted.
Kind Regards
--------------
Thanks again for putting on the talk in Newcastle last week, I found it informative and very interesting. I did have lots of questions to ask and discuss but being in there alone made me loose my nerve! Regarding the swine flu vaccines, I was shocked and appauled about the Baxters case but do you think maybe the reason they never reported it in the media was because they didn't want people to panic and not go for the vaccine? (Myself, Family & my friends families certainly wont be getting this!) also please would you have a link for the 9/11 footage from the news helicopter?
--------------
Once again thak you for a good night, I hope there is another presentation soon, If I can get involved at any level please let me know and I would be more than happy to help!
--------------
I would just like to thank you for the excellent talk you gave at the Irish Centre last night. It was most informative and i look forward to the next one. I'm very glad the agitator sat at the back who had quite obviously been sent sent along to try and debunk proceedings didn't stick around till the end!
--------------
Great presenation last night.
--------------
Richard just a quick note to let you know how much i enjoyed last nights presentation ( i was one of the lads that turned up at 7 then had a quick word after ) - i doubt i will ever spend a better £3.50 in my life !!!! , look fwd to future events
p.s - re:gateshead gray doc , am i the only one too see the irony in the need to have subtitles for other english speaking folk when we are talking about interaction/communication between humans and extra terrestrials?
--------------
Hello, enjoyed the meeting last night but it was a bit back to front perhaps - too long on Mutations and not enough time for the more life threatening situation ie swine flu [bus left at 10.15!] Dave Anderson is also my MP and I wrote to him re the website www.theflucase.com but he just sent it to the D of H and I don't think looked at it. As Jim Marrs says, people just don't want to believe the ''big lie.'' Good luck and thanks, J
--------------
Hi! Richard, Once again another informative and interesting night with you.
< Back