If you watch our documentary, Silent Killers, it becomes blatantly obvious that the government has knowledge about un-explained animal mutilation, which it appears to be playing down and covering up.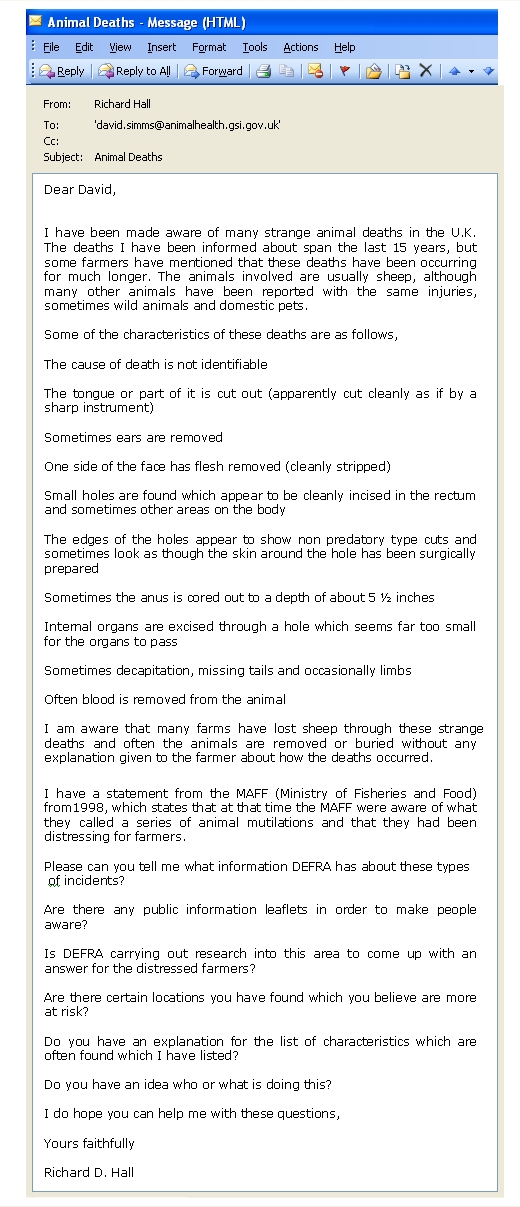 We have still not had a reply to the email sent on 8th May. 2 months is long enough to wait, so we reminded them in a letter of our concerns. It makes one wonder just what on earth civil servants actually do when they sit in their comfortable offices.
A holding letter was received on 18th July, we look forward to the full response.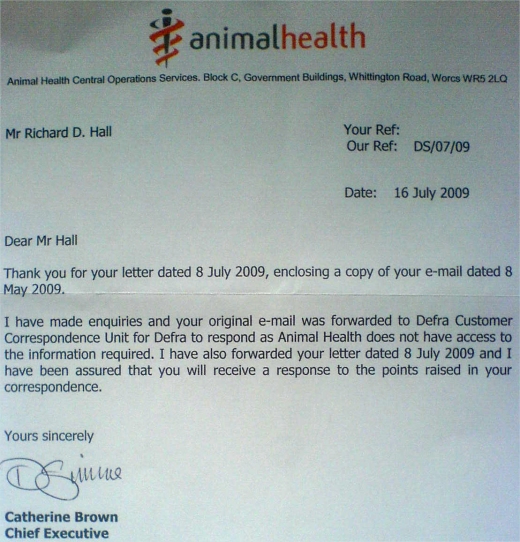 3 months is long enough for anyone to reply. Totally dissatisfied with their lack of response, on 1st August 2009 I went to see my MP, Dave Anderson. I explained the animal mutilation issue to him and he seemed genuinely concerned. He said he would write to the secretary of state on my behalf. The letter below is a copy of my MP's letter to Hilary Benn, the Secretary of State for Environment, Food and Rural Affairs. I was very pleased with Dave Anderson's response to this.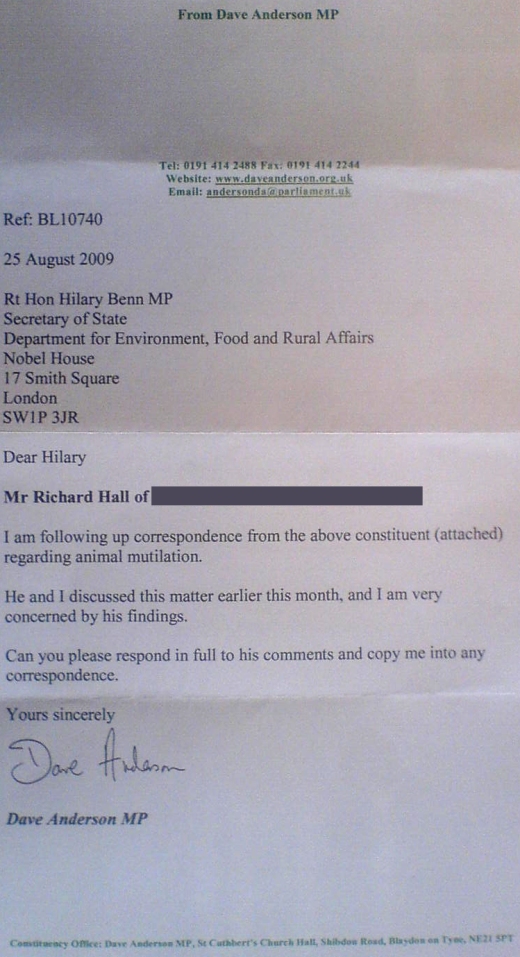 It was a long time to wait from the original enquiry, 5 1/2 months! Eventually a very un-satisfactory reply was received. This letter contains just one relevant sentence,
''My Officials do not have any information on incidents of this kind''
Either Jim Fitzpatrick is being given duff information by his officials or he is lying.
I have emailed him to ask if he has actually watched Silent Killers.
I have told my MP, Dave Anderson I am not happy with this patheic reply.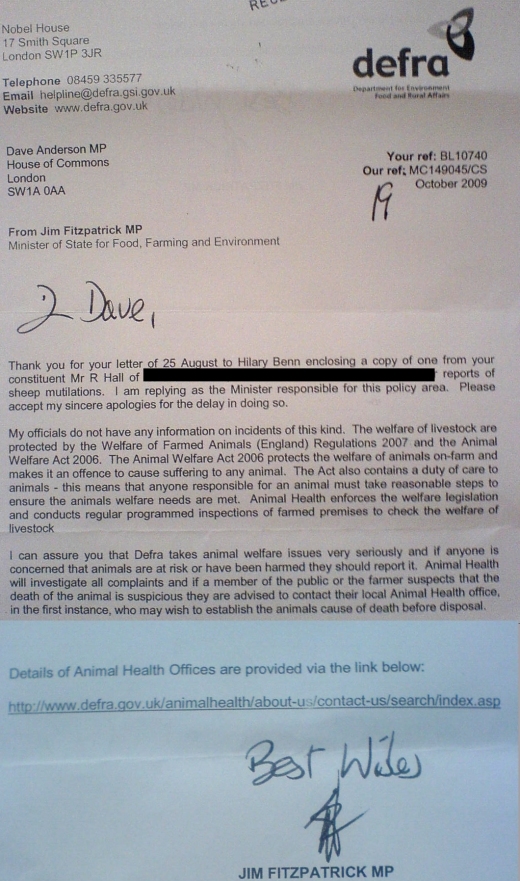 On Friday 13th November my MP's secretary telephoned me to ask me to provide a second DVD copy of the documentary Silent Killers for Dave Anderson (MP). She did not know why he wanted the second DVD.
LATEST NEWS
Dave Anerson (MP) emailed on 30th Nov 2009 to say that he personally handed a ''Silent Killers'' DVD to Jim Fitzpatrick (MP), who is the minister responsible for farm animals.
We will be contacting Mr Fitzpatrick shortly to ask what he intends to do.
Email to Jim Fitzpatrick MP (4.12.2009)
Dear Jim,
I have been informed by my MP, Dave Anderson that he handed you a copy of the documentary film Silent Killers. The film shows compelling evidence of the "Animal Mutilation Phenomenon" which is continuing to occur in certain parts of the UK (there was a case just a few weeks ago in Shropshire).
In your letter to Dave Anderson you stated that "my officials do not have any information on incidents of this kind". Assuming you are telling him the truth, then either your officials are lying to you or information is being hidden from your officials. As the minister responsible for this area it is your job to investigate these claims. The film is 100% true and there is no fabrication here. It may well be that an intelligence agency (probably MI5) handles this phenomenon and actively prevent ministers such as yourself from getting access to the true information. Are you happy with this? The statement that you gave in your letter clearly shows you are not being given the actual information, are you happy with this?
The public have a right to know what is going on in their country. Please let me know whether you have seen the film and whether you intend to do anything about it. A blank denial is not good enough considering the quantity and quality of compelling evidence in the film.
Best Wishes,
Richard D. Hall
We received an automated reply to this email stating that Mr Fitzpatrick could not answer any emails for 3 weeks due to a hospital visit. We will be contacting Mr. Fitzpatrick in 2010. Stay tuned. If he doesn't do anything, then what are they being paid for?
On 2nd March 2010 I received an email from my MP Dave Anderson asking if I have received a reply from Jim Fitzpatrick, I replied saying that I hadn't. However I was in the process of drafting a letter. The following letter was sent on 3rd March 2010.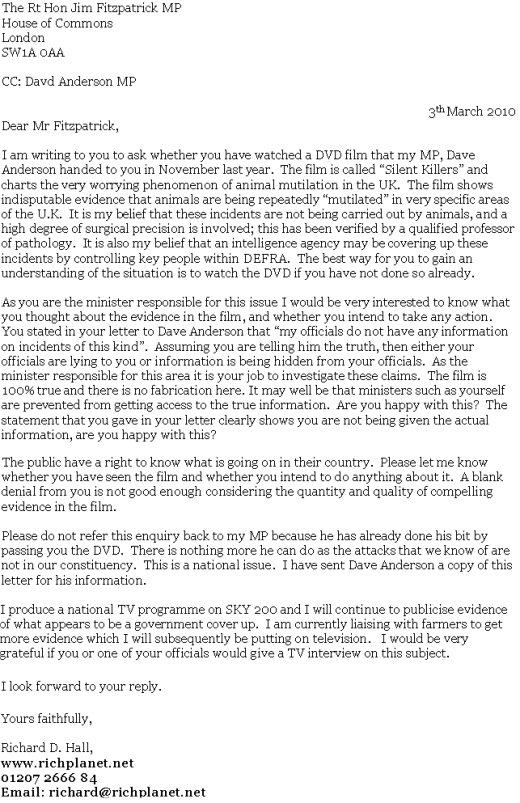 3.3.2010
My MP, Dave Anderson has submitted a P.Q. (Parliamentary Question), which asks when will Jim Fitzpatrick (Minister for Agriculture) reply to Richard D. Hall's correspondance about the animal mutilation phenomenon.
>> Read Parliamentary Question 1
>> Read Parliamentary Question 2
Dave Anderson emailed me and indicated that due to the unsatisfactory answer that he would print out all my correspondance and put it in the hand of Jim Fitzpatrick.
To date I do not know whether and when these items have been put in his hand.
5.4.2010
Events took a strange twist on 5th April 2010. The UK national press has never before written articles about the animal mutilation phenomenon, despite being informed of cases by various researchers including myself. The media blackout has always made me suspect that these incidents were blocked by a D notice. Then on 5th April 2010 two national newspapers report cases given to them by Phil Hoyle. Read the full information Phile Hoyle supplied to ''The Sun'' here.
>> Read The Sun Article
>> Read The Telegraph Article
WHAT IS GOING ON ...
Action is often triggered when MPs ask official questions in Parliament. Have MI5 decided they cannot cover this up any more because MPs want answers. So they change their strategy and decide to debunk it in the media rather than continue a cover up?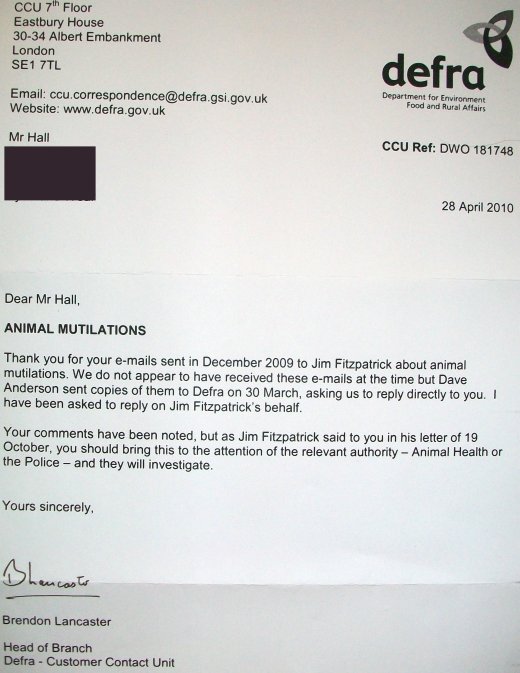 < Back