An evening of Ufology and Exopolitics
Venue
The Bridge Hotel, Newcastle Upon Tyne,
Starts 7.30pm, prompt, 17th September 2009
For other venues & dates >>Click Here
>>NEXT NEWCASTLE UPON TYNE EVENT >>
>> OPEN THIS FILM in seperate larger window
Thank you to everyone who attended, the discussion was very worthwhile and informative. People are clearly concerned about Flu Vaccines, animal mutilation and many other issues. We will be having another event in Newcastle Upon Tyne in the coming months. We need a bigger venue - suggestions welcome.
Richard D. Hall presents a fast moving Ufological presentation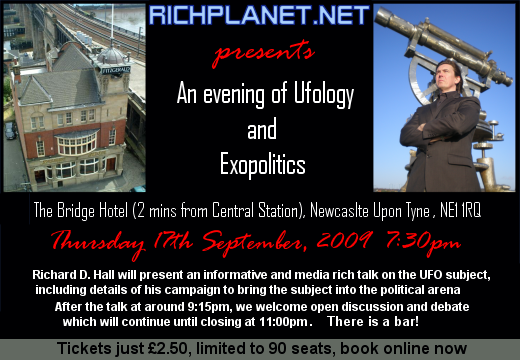 In the first part of the talk, Richard will illustrate with visual aids and compelling video evidence that the Earth has been visited. In the second part he describes his journey so far to try and change politics in this country, to accept the facts, so that humanity can learn the real truth and benefit from hidden technology.
The second part of the evening will be an open forum, and we are encouraging debate on these issues. The truth must be told.
< Back