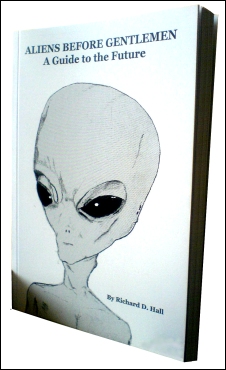 Aliens Before Gentlemen
A Guide to the Future

A wildly original book which answers many profound questions: What do aliens look like, How do UFOs work, Where do aliens come from, What secrets do governments keep, Would you invite an alien home to meet your mother.
Illustrated with stunning physical descriptions and delving deep into the alien character. Eye opening and thought provoking, its genius is in the down to earth and amusing approach to the UFO and alien phenomenon.
"Blood plasma and amniotic fluid are the two most vital ingredients of the Small Gray's diet. They can also exercise mind control and they stink."
Richard D. Hall, an engineering graduate of Newcastle University gained a vast knowledge of the subject whilst running the UFO website richplanet.net. In this book he examines all of the important information which is essential reading for the preparation of an uncertain future.
UK £9.99
£1 post
US $17.99
$2 post
Wrld £9.99
£3.50 post
Payments are by PayPal - safe online system